I don't have a lot to report today in the way of products as I've been doing booth visits and interviews for a number of upcoming articles I'm working on, two of which apply to both still and video shooters. I also spent some time walking the entire booth set in the South Halls, which I didn't work yesterday (a bit over 3 miles, as it turns out, though I didn't do the transect in a very inefficient manner, repeating my path a few times).
It would be interesting to "heat map" the show. There are some clear areas that are consistently jam packed, to the point where it's very difficult to move, let alone find the right person to interview. Also, it's clear that the early morning traffic is lower than the early afternoon traffic. A lot of people fly in for a day or two for the show from LA and other nearby areas, meaning they arrive mid-day, attack the booths, then head home the next day.
In the South Hall, there are clear "heat zones" at the RED/Blackmagic booths, which are large and right next to one another. It doesn't help that a couple of other companies in nearby booths are getting a lot of traffic, such as NewTek. Adobe and Avid also have strong heat around them, partly because they have large presentation areas. Over in the main hall, Canon and Sony are safe bets for "heat zones." Panasonic, Zeiss, and a few others are probably "hot" too. The drone area is far hotter than I expected, and at least "medium hot".
What's not so hot are the services, software, and even the storage areas. Within the storage areas there are some "warm" spots, but getting around that area is quick and not an endless series of dodging around people. 
I am amused about how many options there are for automating news broadcasts. Back when I was TD-ing such shows (TD = technical director), I had to set every key, wipe, split, and title on the fly. Lots of buttons and switches to master. It seems that too many TDs are making too many mistakes, because one solution I saw was basically this: program your 30-minute newscast once, then the TD just has to press the "next" button for each automated transition or effect or title. Of course, I don't know what happens if the TD gets so far out of sequence that he's four "next" ahead or behind. Probably something worse than what happened when you made a bad decision on the fly ;~). 
A few new products I caught in my walkabout: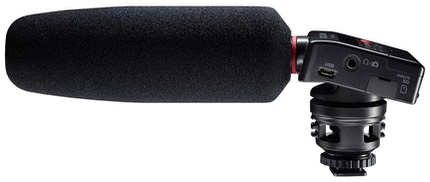 Tascam has a new shotgun mic coupled with built in amp and recorder, the US$199 DR-10SG, which mounts in the hot shoe of your camera. For those of you using a separate audio/video approach (e.g. via PluralEyes synchronization), the separate recording provides arguably better sound that using the camera's cheap internal amps to record from a microphone. The DR-10SG can also pass through the sound to the camera. In addition, there's an on-board slating facility for later synchronization. The microphone itself is highly directional and shock-mounted. It's designed to reject ambient sound, including camera handling, and grab audio from the subject in front of the camera.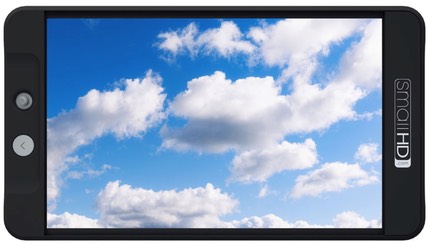 SmallHD joined the HDR bandwagon with some expensive, large, rugged, HDR field monitors. Available in 17", 24", and 32" sizes, these things had gorgeous displays and a ton of features, but the 17" starts at US$3999. But I can see if you're shooting 4K HDR with a client tagging around where these would be very useful.
More in the budget of this site's readers is the new 7" monitors, the 701 Lite and 702 Lite. While only 1200 x 800 pixels, they're 450 nits in brightness and give you 3D LUT support, focus assist, focus zoom, waveforms, false color, and zebras, all in 10 ounces (without battery). US$700 for the HDMI 701, US$900 for the SDI/HDMI 702. 
This site's exclusive advertiser carries the Tascam and SmallHD lines. Get the full list of new products B&H carries that were announced at NAB here [advertising link].
6.08 miles walked